Bags and materials
We offer bags in most sizes, configurations and plastic material so that they suit the product perfectly.
Material: PE, Green PE, PP, variations of laminates.
Sizes: from 50 to 800 mm wide bags.
Thickness: 40 to 120 µm
Print: up to 8 colours.
Configurations
We offer premade linked bags that can only be used in packaging machines from Pronova, and printed material on roll. For more information about our printed material, please visit pronovaprint.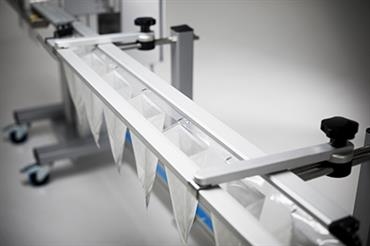 Many bags open for filling
With our system you have all bags along the machine's opening arms fully open, which facilitates manual filling. It also enables multiple filling stations that fill the bags simultaneously.
Easily adjusted bag opening
If you need to adjust the bag opening because of, for example, packing a different type of product of a different size, you can do it very easily with the help of two knobs placed on the packaging machine's opening arms. You can adjust the opening from a completely rectangular opening to a narrow slot.