Bags and materials
We offer premanufactured linked bags that can only be used in bagging machines from Pronova. Bags can be standard or custom in multiple materials, sizes and with various bag features.
Many bags open for filling
With our unique system, all bags along the opening rails are fully open ready for filling. That makes the packing easier and faster and gives room for more than one operator or automatic filling stations -or both.
Changing bags
When there are a number of different articles that are packed using the same machine you can easily change the bags to another sized bag. It only takes a few minutes and is done by simply threading the new bag chain onto the opening rails and adjust the bag opening by either seperating or bringing together the opening rails.
Header bags
For an attractive display bag with card board header we have a special machine, the Pronova 520, that automatically and without staples attaches headers to the bags as they pass through the bagging machine.
We can also make bags with reinforced headers, which is a bag with an extra layer of film in the header part.
Printed or unprinted material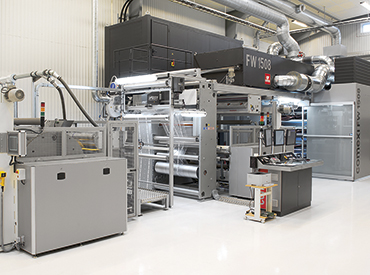 We offer printed or unprinted rolls of film. With our latest investment, a printing press from Comexi, we are able to print up to 8 colors on flexible materials. We produce mono- and co-extruded PE and through partners also PP and various other materials.
Maximum printing width: 1270mm
Repeats: up tp 800mm.
Outer diameter of roll: up to 1000mm
Our pre-press department can help you with art-work and print questions. We are certified according to ISO 22000, and our material is suitable for food.