It's official
We are so happy and proud to announce that we have once again been certified a Great Place To Work!
The prestigious award is based entirely on what our employees say about their experience working at Pronova.
This year, 91% of employees said that Pronova is a good place to work.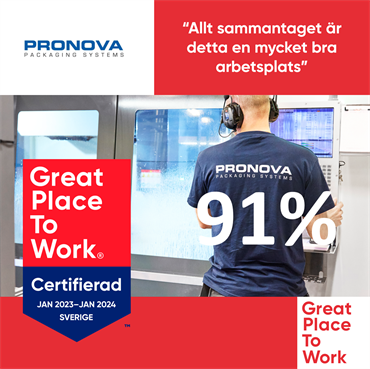 We were certified for the first time in 2020 with a nice result but felt it could be even better. So we decided to start working on the areas where we felt there was the most potential for improvement – camaraderie and leadership.
We have, among other things, hired consultants to help us build a foundation of shared values that everyone at Pronova feels they stand behind. The work included coming to an understanding of what each of us need to work on in order to live up to the core values and how we all can best contribute to a healthy and pleasant workplace.

We have also attended leadership courses, learned more about strategic competence maintenance and introduced the "Friday breakfast" - a moment where everyone gets to share what has happened during the week and what they are facing the following week.
It paid off
In this year's survey, we had improved the results in all areas: credibility, respect, respect and fairness, trust, pride and camaraderie.

Some of the results we are particularly excited about:
• It is fun to work here - 96%
• I am proud of what we achieve here - 96%
• When you start here you are well received - 95%
• I want to work here for a longer time - 91%
These are fantastic figures that spur us on to work further with the areas in which we did not get as high results. Of course, we aim for 100%.
About Great Place to Work®
Backed by 30 years of data, Great Place To Work® is the global authority on workplace culture. Through its proprietary For All™ Model and Trust Index™ Survey, it gives organizations the recognition and tools to create a consistently positive employee experience. Its mission is to help every place become a great place to work for all, driving business growth, improving lives, and empowering communities. Through globally recognized and coveted Great Place To Work Certification™ and highly competitive Best Workplaces™ Lists, Great Place To Work enables employers to attract and retain talent, benchmark company culture, and increase revenue. Its platform enables leaders to truly capture, analyze and understand the experience of every employee, and compare outcomes with data collected from more than 100 million employees in 150 countries worldwide.
If you want to know more about Great Place To Work, you can visit www.greatplacetowork.com